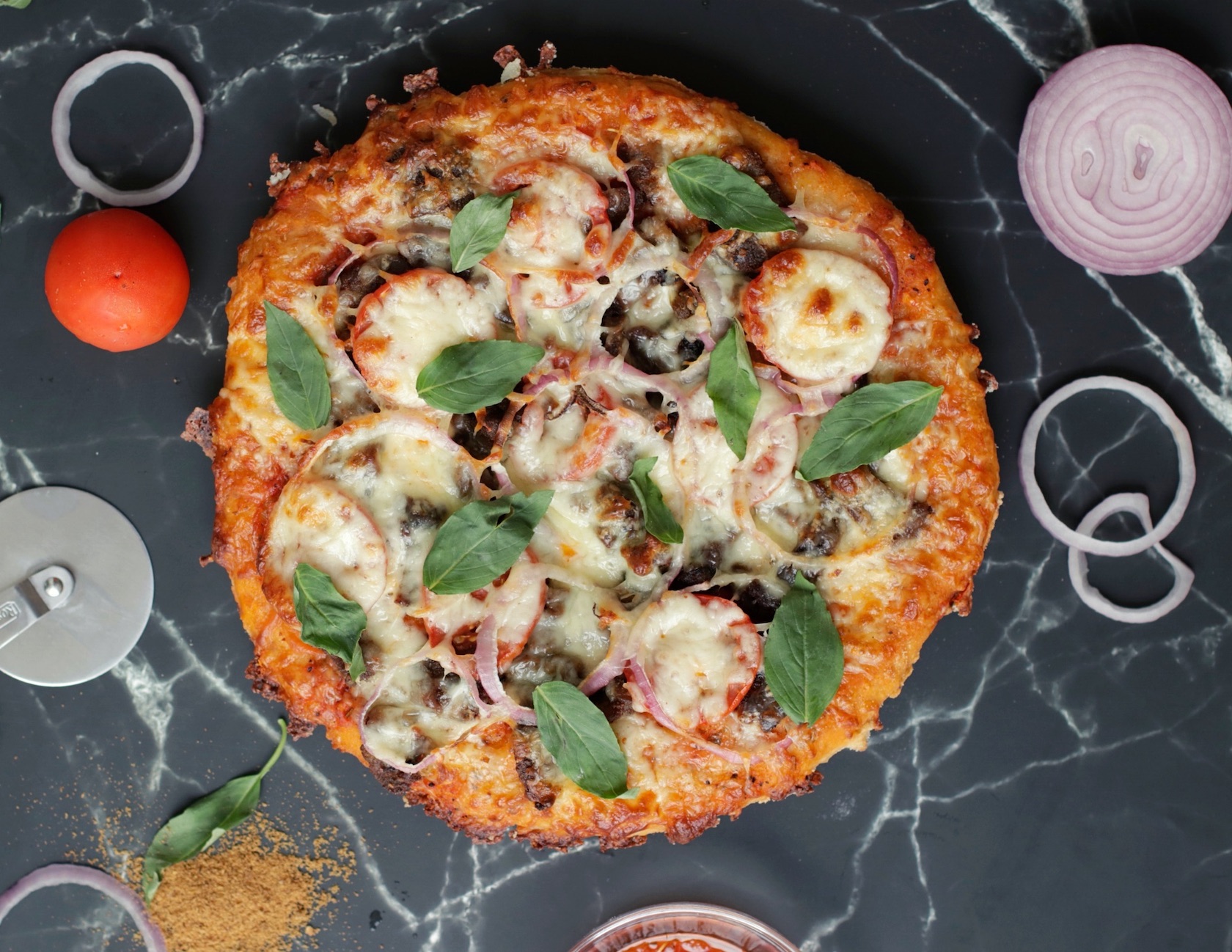 Suya Pizza
We will be making Pizza with a very popular Nigerian street food - Suya, using the Miele Grill Hob.
Recipes
Serves: 5
Appliance: Miele Oven, Miele Grille Hob
Cook Time (Pizza): Step 15 - Intensive Bake, Conventional Heat; 170 degrees; 10 - 15 mins
Preparation:
DOUGH
Pour the water into the bowl of a stand mixer or a medium bowl.Sprinkle the yeast over the water, and let stand until the yeast has dissolved, about 5 minutes.

Add the flour and salt. Stir with a stiff spatula until you've formed a floury, shaggy dough.

Using the dough hook on the stand mixer, or by hand against a counter top, knead for 5 to 8 minutes on medium speed until it forms a smooth, slightly tacky ball that springs back when you poke it. If the dough sticks to the bowl or your hands like bubblegum, add a tablespoon of flour at a time until it's easier to work with; avoid adding too much flour if possible.

Clean out the mixing bowl, coat it with a little oil, and transfer the dough back inside. Cover the bowl with plastic wrap or a kitchen towel and let the dough rise until doubles in size, 1 to 1 1/2 hours.

Divide the dough in half, and pat or roll one of the pieces into a 10-inch round.

TOMATO SAUCE BASE
In a saucepan, add your tomatoes, olive oil, water and garlic. Allow to cook for a few minutes.

Add the rest of your ingredients to your pan and taste.

Turn off heat and set aside.

SUYA
Wash the beef properly and slice into thin fillets. This can be done using a kitchen knife.

Transfer a substantial amount of the yagi (suya pepper) in a clean dry plate. Add the seasoning cubes and salt to it, mix them properly together and set aside (do not add extra spices in a case were the suya pepper already has salt and seasoning cubes).

Stake the beef on the sticks and sprinkle the mixed spice all around it. Make sure to sprinkle evenly.

Use the grill hob to make the suya. In a case where you do not have a grill hob, the Miele smartline induction hob along with the griddle plate will work just fine.

Use a kitchen brush to rob the vegetable oil on the beef before grilling. This will help the grilling process. Gently place the beef on the grill hob. Flip the suya every 3-5 minutes until it is evenly cooked. Apply more of the spices as you grill.

Once suya is ready, set aside to cool. Then slice it up into small pieces.

PIZZA
To assemble the pizza, spread the tomato sauce on the dough first. Next, place your suya on the sauce, grated mozzarella cheese, some sliced onions and tomatoes. Place the pizza on a baking pan or sheet and slide into the oven.

Using the Miele oven, bake at 170 degrees. Bake until the cheese is melted, the crust golden, and you see some charred bits on the top and edges this should take 10 to 15 minutes. Baking time will vary depending on the heat of your oven and how thick or thin you rolled your pizza.
Ingredients:
Dough
3/4 cup lukewarm water (not hot)
2 teaspoon active-dry yeast.
2 cups all-purpose flour, plus more if needed.
1½ teaspoons salt
2 tablespoon olive oil
Tomato Sauce Base
1 can tomato paste
½ cups water
â…" cup extra virgin olive oil
2 cloves garlic, minced
1 tablespoon onion powder
½ tablespoon dried oregano
½ tablespoon dried basil
½ teaspoon dried rosemary
Ground black pepper to taste
Salt to taste
Suya
Beef fillet
Yaji (suya pepper)
Vegetable oil
Seasoning Cube (optional)
Salt
Skewers
Toppings
Mozzarella Cheese, Grated.
Onions, Sliced.
Tomatoes, Sliced.
---