Welcome to the Miele Press Area
Fast loading and efficient use of cabinet space – with EasyLoad from Miele
Thorough internal cleaning of glassware of all shapes and sizes without need for height adjustment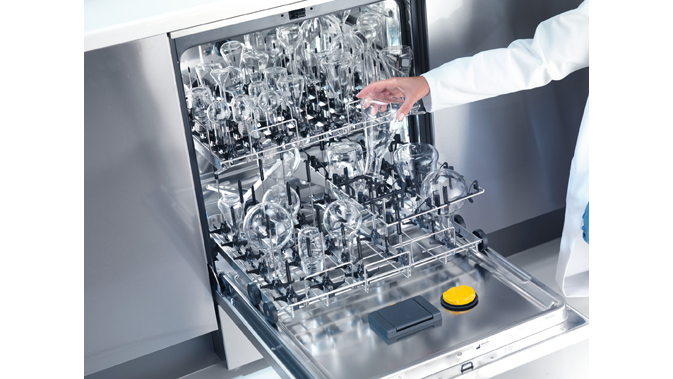 ---
With its EasyLoad range of accessories, Miele is reducing the effort needed to load its lab washers and protecting load items against damage. Laboratory glassware is automatically correctly positioned in the load carrier, and newly developed injector nozzles guarantee thorough internal cleaning of glasses of different shapes and sizes – from test tubes to large Erlenmeyer flasks.
This solution complements the previous load carrier system from Miele, which will remain on sale. It consists of three different injector modules for load items of different sizes. EasyLoad can be fitted with right-size injector nozzles to meet the particular needs of the load in hand. The heart and soul of the system is a new spray nozzle in a variety of lengths and diameters. Its design guarantees the reliable interior cleaning of glasses, even if the bases of glasses rest against the tips of nozzles. Above all, load items can be positioned over nozzles both more simply and faster as the height adjustment of holders is no longer necessary, thanks to the smart combination of nozzles and holding frames. Broad supports are available to provide a base on which to place load items, ensuring a secure hold and reducing lateral movement and rattling.
With the new supports, the vertical clearance in the upper and lower baskets can be put to even better use. Compared with the previous system, height gains, depending on the load arrangement, amount to up to almost 9 cm. This allows considerably taller items of laboratory glassware to be accommodated in the machine.
The use of nozzles and supports is possible on almost all lab washers from Miele. Load arrangements can be chosen individually by users, resulting in the ultimate in flexibility. Furthermore, the entire EasyLoad system can be extended at wish at any time.
---
Go Back
Any questions? You can contact us at any time!
Consumer Sales:
0806 398 0270
Monday – Friday
9:00am – 5:00pm
Saturday
10:00am – 4:00pm
GIVE US A CALL
Customer Service:
0806 398 0270
Monday – Friday
9:00am – 5:00pm
Saturday
10:00am – 4:00pm
GIVE US A CALL